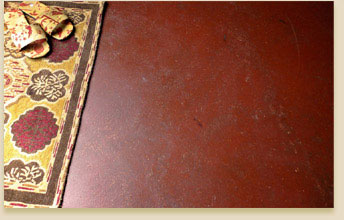 Earthen Floors with Claylin
Earthen floors are the oldest type of flooring. Claylin offers a modern earthen floor experience. Earthen floors are unique in the way they look and feel as well as how they are created and maintained.
Do It Yourself

Claylin is for the Do It Yourselfers as well as contractors. We are proud to offer the most comprehensive guide to creating your floor. Earthen Floors, A Modern Approach to an Ancient Practice. A hands on training is also available.

"We so enjoyed working with Sukita on our earthen floor. She is a delight and I now share her passion for earthen floors. In fact if I knew then what I know now I would have put earthen floors on my entire main floor, instead of some earthen floor and some concrete. Earthen floors are fabulous with radiant floor heating too!"
Julie and Bob Granger - Their earthen floor was featured on Renovation Nation